Take it back to September 18 two years ago. Photographer ArtLikeUs was set, collected at Stage AE making images of entertainers Choo Jackson, The Come Up, Mac Miller, Quentin Cuff and more in Pittsburgh. Outside, InTheRough handed out stickers and T-shirts to people in line waiting to enter the concert. At this moment, we met this tall kid with a welcoming attitude and supreme afro, sometimes he caged it with a silk head scarf, Yung Mulatto. Put the city's culture into perspective.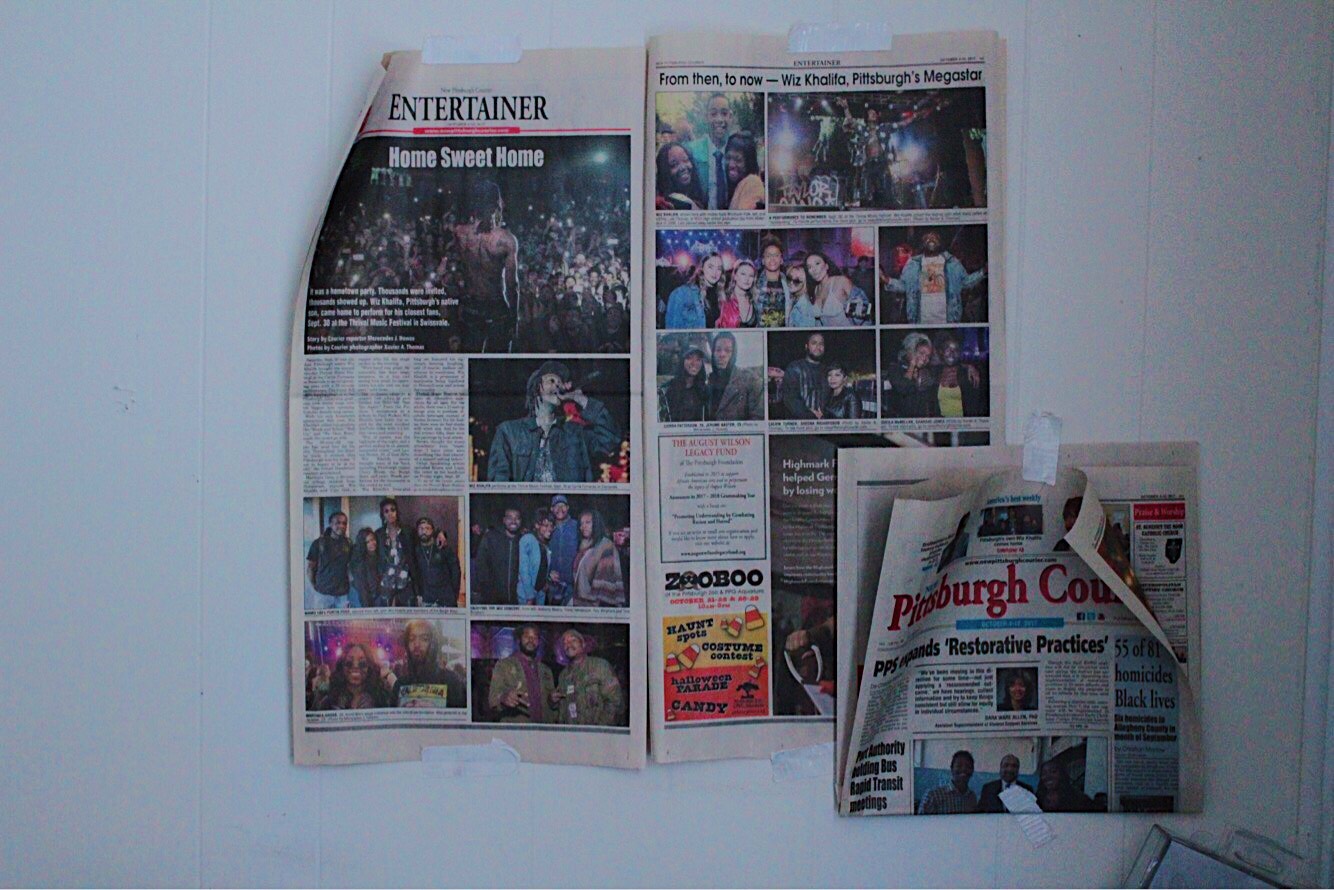 Two days later, ArtLikeUs photos from the concert published in an ITR article about some discriminatory mess that went on before the show. ArtLikeUs' photos amplified our words about the injustice to create a legendary piece of journalism that many people championed. The photo of Mac and Q hyping the Stage AE crowd is "one of my favorite photos," ArtLikeUs said.
Two years later, the man behind ArtLikeUs Xavier Thomas is 26 and still capturing images of entertainment and black life in city settings. "I can relate to black on a grand scale," Thomas said. When rap queen Cardi B visited Pittsburgh at Xtaza nightclub, ArtLikeUs was there to photograph. When Levels Agency brought Gucci Mane to the 'Burgh's David L. Lawrence Convention Center, people saw the footage on the ArtLikeUs Instagram feed. Once late rapper and Pittsburgh legend Jimmy Wopo came home from a brief jail sentence, Art, camera in hand, was at his "crackin'" welcome home party at the Galaxy Lounge in Homewood. Big Lonn of the native Pittsburgh Taylor Gang rap crew invited Art to photograph his jiu-jitsu sparring sessions. Art bounced around from local podcasts like the Burgh Boyz to The New Wave Podcast to Straight To The League giving them video footage of each episode. All of this and more, ArtLikeUs was deep in the scene creating visual narratives of daily life in Pittsburgh.
In his home office in Greenfield, Pittsburgh, a news clipping of a feature article about Wiz Khalifa in the New Pittsburgh Courier with ArtLikeUs photos tacked to his cork board. Art scrolled through his Twitter account of Tweets from years ago. "My only dream is to be a sought out photographer," one said from 2013. Each one predicts the future. Now, ArtLikeUs is a prominent photographer making images of superstars like P Diddy.
ArtLikeUs stood outside the Grammy Museum in Los Angeles on assignment with heavyweight rapper Fabolous for the Global Spin Awards. "Diddy hops out of a truck right next to me," he said. "I tapped Diddy to get a photo." The music mogul's bodyguards muffled under their breaths creating a boundary around Diddy with their arms. "I interjected. I over-stepped. I couldn't let him walk away from me." Art walked away with footage of the Combs family, a private conversation between super producer Pharrell and Fabolous, images of Snoop Dogg and much more. There was "an insane list of people. I don't know how to tell these stories it was so rich," Art said.
Thomas got his access card to the stars through his relationship with Fab. The rapper had a show in New Castle, Pa. and Art was there making opportunities for himself. Prominent hip-hop magazine XXL published ArtLikeUs photos of Fab from that night. When Fab came to the 'Burgh for a show at the Strip District's Xtaza club, Art linked with Fab officially and even met with him at Bliss Nightclub in Washington, D.C. "I really spent a considerable amount of time with him," Thomas said. He's able to text the rapper and work with him because "I never fan'd out over nobody. I just try to be distinctive and get my shit done." Well, he did fan out once when R&B songstress Teyana Taylor gave him a hug at a Def Jam Recordings party. "Teyana Taylor is one of the prime examples of a black woman," he said.
In L.A. and other big market cities, "getting in a room is usually the hardest part," Art said. But working diligently and "doing good work" will get you in that room.
Already in rooms photographing the major culture out West, ArtLikeUs worked with Taylor Gang honcho Wiz Khalifa for a week in L.A. Art featured on Khalifa's "420 Freestyle" record screaming "We don't know!" Clips inside the studio promote music from Taylor Chevy Woods. Once, Justin Bieber pulled up on Wiz in a stout Mercedes G-Wagon. DJ Khaled had celebrity guests to his new House in Hollywood Hills, L.A. ArtLikeUs was there with Fabolous and his crew, like Fab's manager Big Fendi. So Art grabbed looks at Khaled's ginormous shoe closet and a family photo of Busta Rhymes, DJ Khaled and Fab. Notoriety stretches in ArtLikeUs photos from cool people like music entrepreneur YesJulz, comedian DC Young Fly and radio DJ Funk Flex.
Although Thomas has built a foundation in Pittsburgh, speaking to his well-known camera talents and the family he's created, he needs more and "I'm willing to go get it," he said. Just then, his youngest son toddled toward a slice of pizza on Thomas' living room table. "I need to get paid like I want to. The budget for music projects here isn't industry standard and I need industry standard," Thomas said.
So far in 2018, Atlanta and Los Angeles have facilitated Art's financial goals. The big markets with pools of entertainment can support talent in multiple industries like photography. But, "my come up was here in Pittsburgh," ArtLikeUs admits. "The Pittsburgh art community super fucks with me," the scene just needs to grow so that local heroes and talented people don't feel like an "A1 prospect playing in the D League," Thomas said. After all, people in some Pittsburgh entertainment industries, like musicians, say making money is nearly impossible. The Pittsburgh Music Ecosystem Study by Sound Music Cities states that 69% of musicians here earn less than $10,000 per year from performing or selling music. 10% of musicians earn $35,000 and above.
Something must be done to expand the scene because "this is about me achieving my dreams and not compromising," Thomas said.
ArtLikeUs: To get paid like I want to I have to leave. I'm not trying to get paid $10,000 per shoot, but I literally get paid by companies here [Pittsburgh] $100 to shoot. I'm going to grind and get something out of this photography. 'I gotta get this money. Understand me?' (Chief Keef "Sosa Baby" lyrics)
InTheRough: Do you think Pittsburgh is able to sustain your dreams or do you think Pittsburgh is capable of paying industry level budgets for photographers and other artists?
ArtLikeUs: Yes, once my industry is broader. You need to pursue weddings if you're a photographer. If you want to be a good photographer and guarantee to make money get into weddings. I'm looking for entertainment though. I'm into the hip-hop scene. I'm into the urban. I'm into Black on a grand scale and Pittsburgh isn't that. It could get there one day with the way music streaming is going. I'm just saying the people that have money to spend on foolish shit aren't in Pittsburgh. We don't take that and build something here. Say Wiz built a club or Mac opened a restaurant. People would gravitate towards that. But people hate so hard, so I get why people wouldn't come back.
ITR: What is it that you need from the city to come back whenever you make it?
ArtLikeUs: I need the city more geared toward youth. This is an old ass city. We don't have anybody that represents us in politics or the stuff where the power is really at. It's not geared toward us. This is currently geared toward settling down. If we could broaden the technology stuff people talk about here to other business sectors that would be lit. If we get recreational marijuana here that will change a lot. That's when our money will matter.
ITR: When you look back at the photos you've taken, especially of stars like Wiz, Fabolous or Gucci Mane, which one sticks out?
ArtLikeUs: Definitely Fab and definitely Wiz. Fab, I got to him first. My first time shooting Fab's image went to XXL, Hot New Hip Hop and The Source and hella other blogs. That was amazing People were hitting me up like, 'Yo! It went to XXL!' I was like, 'What? That's my picture?' I couldn't believe it. I shot Wiz in Atlantic Records' studio in New York. Man, I was the biggest Wiz Khalifa fan since a long time ago. That was a personal thing. When I first moved to Pittsburgh and got into the scene I was like, 'I think I can get to Mac and Wiz if they come to town.' And I got to both of them. I got to go to New York with Wiz. Just because of those things that happened to me I don't doubt my path anymore because I didn't expect that. That shit happened to me by accident. I was just doing shit and that's why I keep doing shit and shit keep happening.
ITR: I've heard you say you look up to Dan Folger.
ArtLikeUs: Dan Folger is probably my primary reason for getting a camera, especially with what he was doing with Wiz Khalifa in the "DayToday" episodes. Besides photography though, Dan Folger was on his grind. He had a job and was doing this photography. He was on the Galaxy [Galaxy Lounge] grind like I was. He was doing things I do now, the behind the scenes stuff. That was really cool for me. Cam Kirk, Johnathan Manion, and Terry Richardson are a few photographers who are big inspirations too.
ITR: What did you want to be when you grew up?
ArtLikeUs: Bro, I wanted to play basketball and just be rich.
ITR: Where are some venues in Pittsburgh that you liked to shoot?
ArtLikeUs: The Spot and Galaxy Lounge, they're gems. If you know, you know. Owey had it crackin' and same with Hardo and Wopo. I want you to go there. It's a bit harder, but you have to get the whole city.
ITR: What tips do you have for networking?
ArtLikeUs: I don't mind expressing an idea that somebody might steal. I want to express something to somebody so they know I'm trying to grow. Don't be a weirdo and just talk to people.
ITR: What about your photos makes them so good? What's your talent in image making?
ArtLikeUs: I want the moment to last. The other day I saw an image of when my son was first born. That was lit. I have a really good family album or life album of shit, and now there's all this entertainment and poppin' shit that fills in there. It's crackin'.
Definitely, keep up with the ArtLikeUs Instagram page. Check out his photos from the Pittsburgh stop of Wiz Khalifa and Rae Sremmurd's Dazed & Blazed Summer 2018 Tour and more content as Art follows music star Hardo on the tour.