The first thing I noticed upon arriving at the Daily Bread x Taylor Gang stage at Pittsburgh, Pa.'s Strip District Music Fest this past weekend was the numerous outdoor space heaters positioned in the crowd and on the stage. Temperatures were at freezing level Saturday, forcing artists, like Chevy Woods, to acknowledge once they stepped on the stage, "It's cold as fuck out here!" However, the music, as well as the artificial heaters, kept people warm as they "milly rocked" and danced to local Pittsburgh hip-hop acts throughout the night.
While Strip Music Fest featured established artists Motor Mane, DJ Afterthought, and headlining Chevy Woods, the festival was a Super Bowl of sorts for up and coming local rappers Tairey, Pk Delay, Joel Kellem, JKJ, Knuccleheadz, and more. The roster showcased the next wave of hip-hop talent primed to make names for themselves outside of The Burgh.
"This is the best show of my life," said Tairey to attendees, which included his old college roommates, fans, and social media influencers who promoted and shared the festival's highlights to their audiences.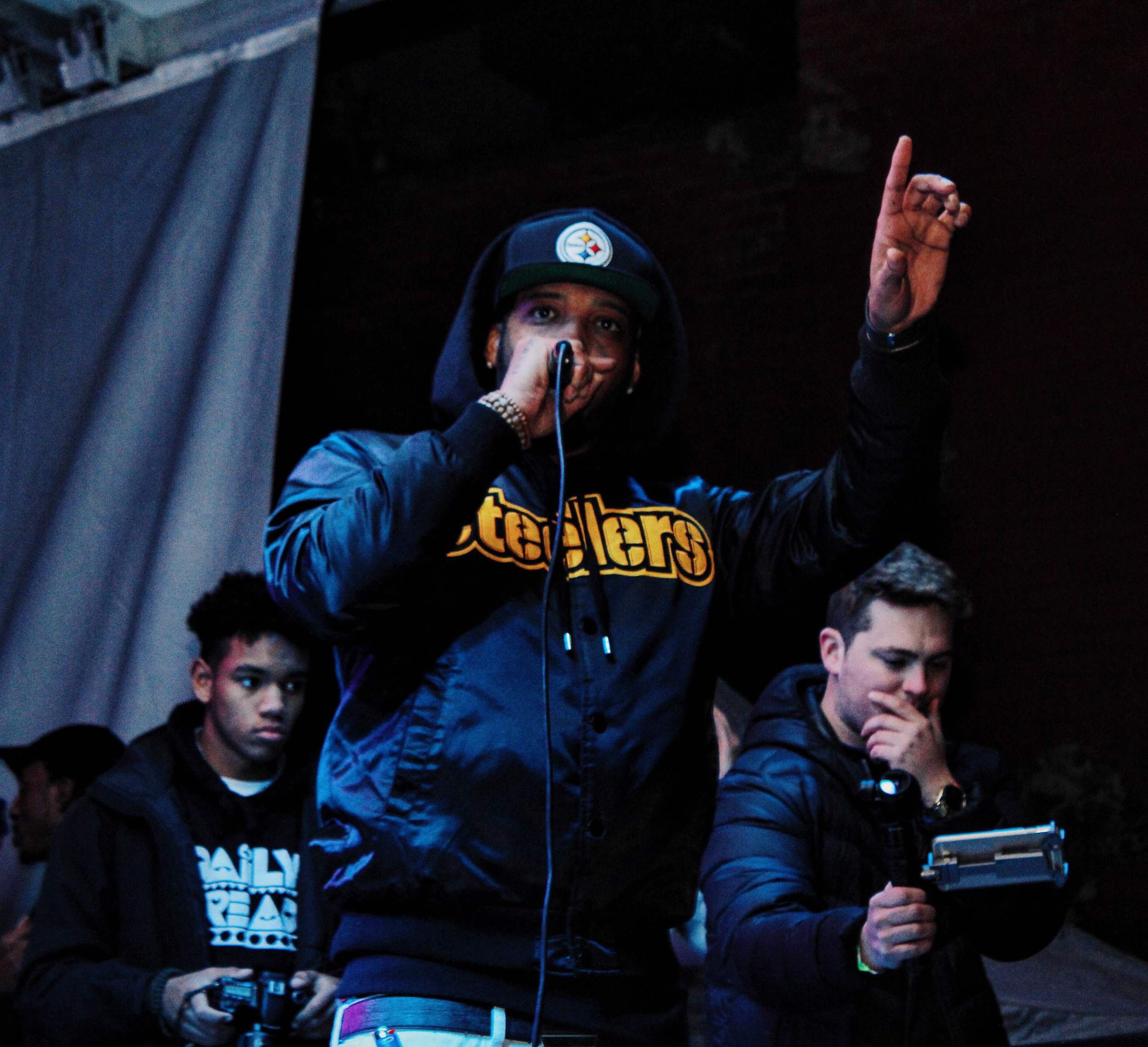 For rap group Knuccleheadz, they hope Saturday's Strip Music Fest was a hometown kickoff to eventful 2016. Natives of Pittsburgh's Homewood neighborhood, Good Kelly, Jiggy Cee, and Heem of Knuccleheadz are on the cusp of signing a record deal with Taylor Gang Records.
Inside a McDonald's, conveniently located one parking lot over from the Daily Bread x Taylor Gang stage, the Knuccleheadz and myself got warm and fed our hunger with french fries, chicken McNuggets, and McDouble burgers. Good Kelly sat with me and explained the future of Knuccleheadz. "We're about to be big," he said. When one of his friends, Kali, became upset with the number of chicken nuggets in front of him, Kelly said, "In a year, we're about to be arguing about Corvettes, cuh."
At the show, Knuccleheadz was due on stage at 10:10 p.m., three slots away from Chevy Woods' finale performance. With friends like Chuck Global and Wreckaz Gang affiliates COOP and fly class weirdo Kyle Branson, Knuccleheadz gathered adjacent to the stage stairs, smoked weed, and talked amongst themselves about their upcoming performance.
"We're gonna remind ya'll what hip-hop really is," I heard Heem and Good Kelly say to each other.
The group definitely looked "hip-hop." Kelly and Jiggy wore heavy, blue flannels, and Heem wore black from head to toe. He had on a black trench coat, a black button-up shirt, and a pair of black Levi's denim all completed by a black bowler hat and a pair of black sunglasses. Also, the Knuccleheadz members repped the Crip flag; Jiggy waved the flag in the air, Kelly tied one as a bandana around his head, and Heem hung the blue flag from his left side back pocket, the Crip side.
Knuccleheadz's attire and lyrics promote their gang affiliation. Their "Cripn" credentials are only important because it plays into the style of their music, an ode to '90s hip-hop.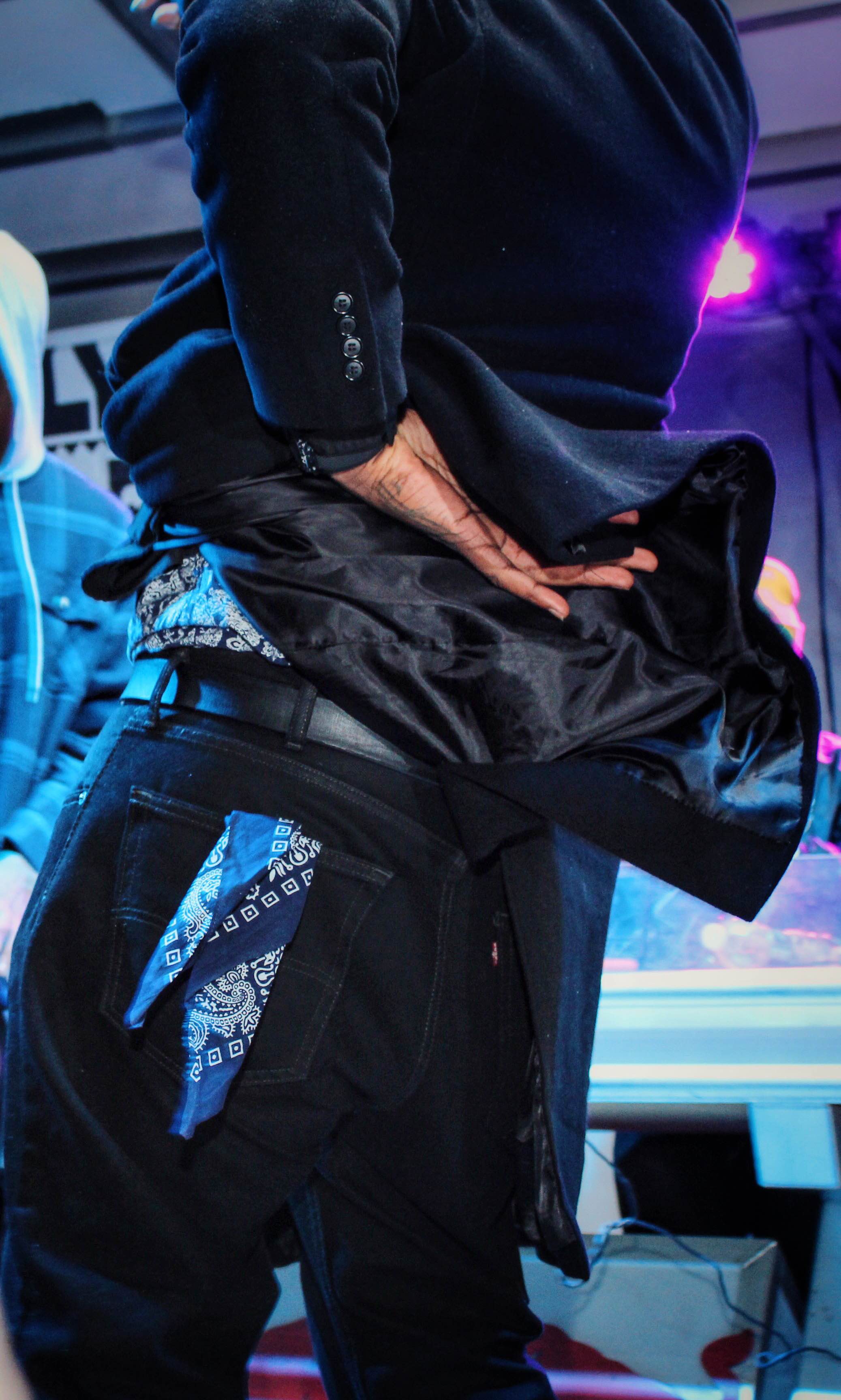 When Motor Mane called the rap group to the stage they began their set by telling the crowd, "Come closer, come closer!" I felt people push me from behind, as the crowd was now reaching out to touch the Knuccleheadz atop the stage.
The music played, and listeners heard Knuccleheadz's East Coast, G-funk, gangsta rap, and boom bap influences, which all symbolize the Golden Age of hip-hop. The rappers' crew hyped the performance with their dancing and celebrations in the background.
Perhaps a foreshadow of Knuccleheadz's forthcoming success was how effortlessly they entertained the Strip Music Fest crowd.
Now, using the festival as a barometer, Knuccleheadz looks to their lifestyle, high energy, and hip-hop flare as an appeal to mass audiences around the country.
A selection of songs by some of the artists who performed at the Strip District Music Fest is available below.