Blackboi owned the steps in front of the Andy Warhol Museum. His navy colored dreads matched his navy sweatshirt, and his ensemble was complete and casual as Vans covered his feet. Zolo sat on the Warhol steps. He wrote lyrics in a wire bound notebook.
The two 17-year-old hip-hop artists were the attraction and not the museum as they gain attention for their rise through Pittsburgh's underground hip-hop scene.
Walking past the Artists Image Resource and Boom Concepts Activist Print street-art installation on a building next to the Warhol, Blackboi and Zolo stopped in front of two composite photographs. In one, a seated, theater crowd wore 3D glasses, engaged with what they watched. In the other, a young black girl highlighted in yellow stood on stage looking back at them. The boys looked at the artwork, they too the object of people's attention.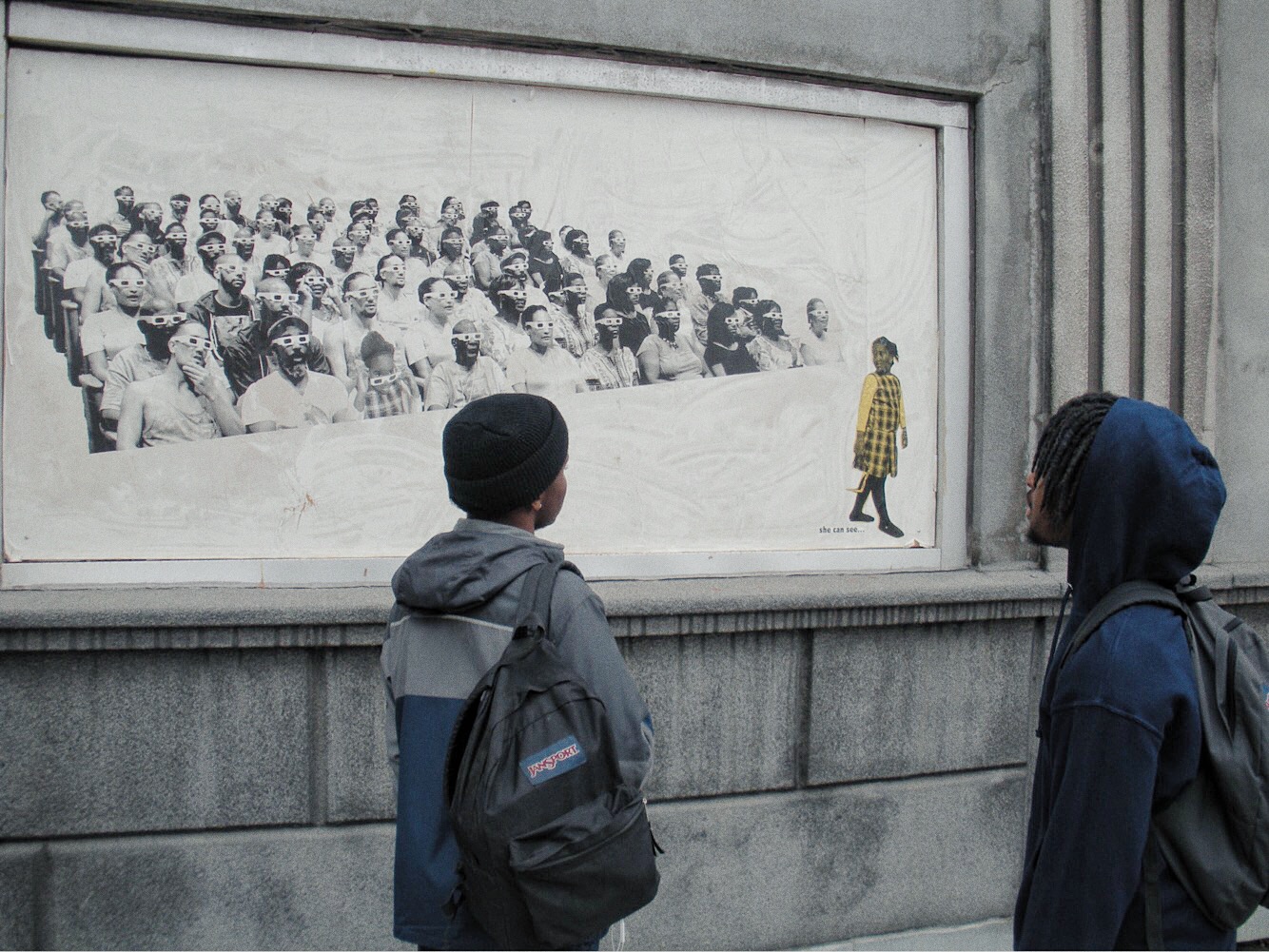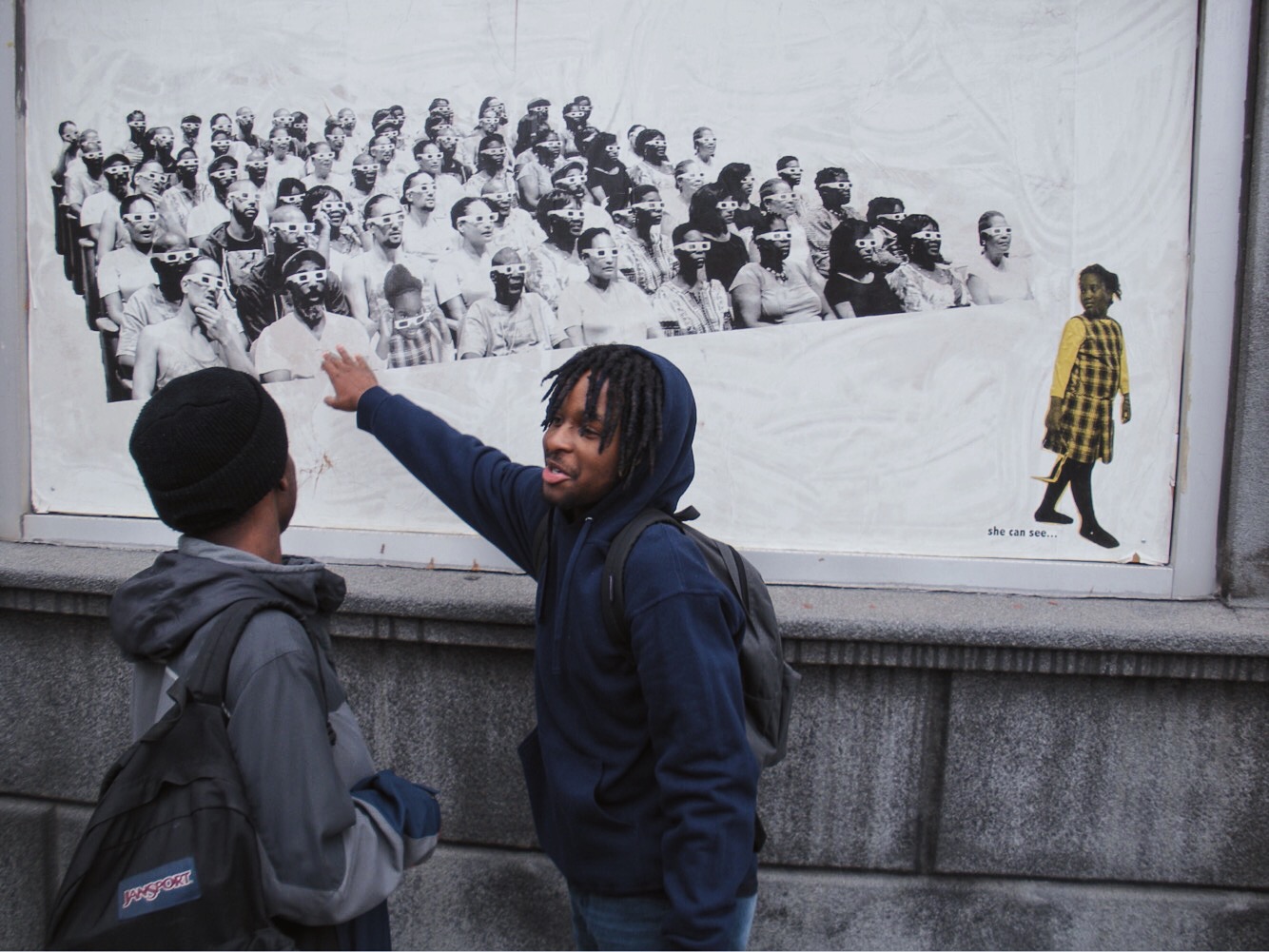 Ahead of his forthcoming "Astro O2" album, Blackboi has released a mixtape and a handful of single tracks in the promotion of his album which carries the premise that the world ends without creativity. His six-song tape called "some shit i made in my room" isn't the most recent thing he's dropped. Newly minted "tsukyomi flow," featuring rapper Ant Windu, hit Blackboi's SoundCloud account over the weekend.
"I want to be the most versatile rapper to ever do it," Blackboi said. Production credits from producers abroad, like eestbound of Toronto, genre experimentation, and using his friends as inspiration play into his artistry.
Zolo sat in the back of a car with a notebook on his lap. Now, his earbuds were in. Writing to the beat "helps me find my flow," Zolo said. Blackboi, officially Byron Stevens, and Zolo, Alonzo Cotton, rode around the North Side. Blackboi lives there and Zolo is a Garfield native. The rappers handled the aux chord. They listened to new music by St. Louis, Mo. crooner Smino and District of Columbia rapper GoldLink.
Blackboi and Zolo are friends, and they make music as members of the Sanguine team. Sanguine is comprised of 20 young musicians and artists. All of them are talented. They met through schools like Perry and Allderdice, as well as KRUNK Movement, a micro-enterprise located in Hazelwood that supports youth and hip-hop through media production.
KRUNK made their musical acts "refined. We couldn't cuss," Blackboi said. The organization guided the artists in the studio, and they received platforms to perform. Blackboi, Zolo, and other Sanguine members debuted their "fist in the Air like the '60s" song, a message about activism, last summer. The track featured as part of the Center of Life non-profit's Rap4Reform project.
Creating in the city with talented friends, like "Keith," the founder of Sanguine, or designer of D.R.I.P.P. and rapper Aaron Owens, encourages Blackboi to "reach my goals." He's "never felt like an outsider. I love Pittsburgh," he said.
Blackboi, Zolo, and the numerous members of Sanguine expand the 'Burgh's hip-hop community. Their music pushes collaboration because they use each other as inspiration. "In Sanguine, my girl, Bird, influences me the most," Owens said as they are often pictured together wearing coordinated D.R.I.P.P. outfits. "These other cities know how to help each other out," Zolo said. "I'm trying to get people to look at Pittsburgh like they look at Atlanta," Blackboi continued. The way to do that is by supporting each other in any way the group can. Sanguine teammates feature on each other's songs and in their music videos. Their Instagram pictures highlight everyday moments with each other and their creative processes.
Cool moments in Blackboi's music attract listeners. He often references popular cultural heroes like actor Jet Li. Authenticity features in his songs about love. "This girl is the underlying topic to a lot of my songs," he said.
Though Blackboi steadily adds to his music catalog, Zolo writes and records to perfect his work until it is ready for public ears. He will release his first ever single called "10" on April 21. "I'm real nervous," Zolo said. "Nervous about how people will react and vibe to the song," which he calls his last love song "for a while."
Whatever happens, Blackboi explains that Sanguine will have "positive attitudes in bad situations" as they pursue notable music careers.
If there is a star in Pittsburgh's hip-hop scene, "Keith believes in me," Blackboi said, and Blackboi believes in Sanguine.